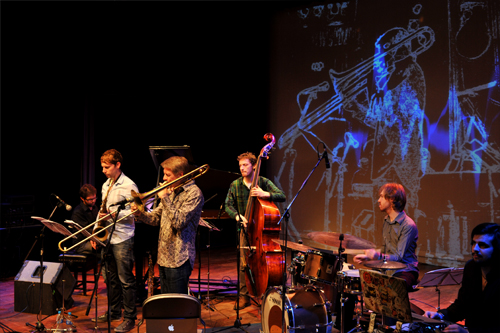 © Bob Meyrick
Line-up of the new Quintet
John Aram: Trombone and Laptop
Graeme Blevins: Saxes/Flute
Tom Cawley: Piano/Keyboards
Phil Donkin: Bass
Arthur Hnatek: Drums
Joss Sessions: VJ
This band has been touring to great success in the UK and in Switzerland, playing for the British Ambassador as well as sold out festival and concert dates.
_______________________
The John Aram (Swiss) Quintet has been together since 2005 and recorded its latest album at Dinemec Studios in February 2009. Multi generational, this group provides a link with jazz history whilst pushing forward its purely acoustic format with new ideas from today's new generation of players. A superb complicity between the players make this a fantastic group to see live on stage.
John Aram: Trombone, Composition
Andy Scherrer: Tenor Sax
Colin Vallon: Piano, Fender Rhodes, Prepared Piano
Phil Donkin: Bass
Norbert Pfammatter: Drums
The album "Saturday Night and Sunday Morning" was released in 2011.
The John Aram Quintet can be booked as a standard quintet or with the strings. >> Contact <<